This year's Centennial celebration includes the return of the downtown Pleasanton Parade, a brand new concert format, and a variety of distinctive memorabilia chronicling its 100 year history.
http://www.alamedacountyfair.com/2012fair/
The first Alameda County Fair ran from October 23 to October 27, 1912. Local leaders sought to form a modern fair, and in 1939 the Alameda County Fair Association was born. Once considered a racing fair, the Alameda County Fair now boasts livestock and agriculture, thrilling carnival rides, beautiful quilt exhibits, baking contests, fast-paced horse racing, or simply a corn dog. Come join the celebration as the Alameda County Fair celebrates its 100th milestone.
HISTORY
We've been to a lot of  Country Fairs over the years – all the Bay Area ones and some as far away as the famed Erie County Fair  in Buffalo, New York. Of all of them we like our own Alameda County Fair right here in Pleasanton, CA. Why? Because  it looks  and feels like a county fair, not some urban fair trying to masquerade as  a real county fair like San Francisco's or Marin's.  This one has it all including a full stable of  farm animals, a large 4H exhibit hall, FREE name concerts nightly (included with admission), every kind of fair food you could imagine, a full midway of carnival rides and games, three exhibit halls of interesting gadgets , nicknacks, gemstones, etc, a  major garden display, every kind of fair food you could ask for such as funnel cakes,  BBQ, corn dogs, pepper steaks,  cotton candy, pink popcorn and on and on.  One of our favorite attractions is the Wine Garden where Terry Hanks and his blues band has played the last several years. Worth the price of admission alone.
FREE CONCERTS FEATURED MOST OF THE GREATS!
Over the years we've seen music talent like the Platters, 'The Diamonds, Donnie Brooks and his cavalcades of stars including Tiny Tim,  Badfinger, Pat Upton, Cannibal and the Headhunters , Al Wilson and many more (it was a sad day when Brooks stopped coming around), Pat Boone, Neil Sedaka, Freddy Fender,  Annette and Frankie. Johnny Cash,  Bo Diddley,  Marty Robbins , Tower of Power and on and on.
The music today may have changed , sadly, but the fair remains much as the same as  it has many of those 100 years. The grounds, in themselves, are  a pleasure to behold- the  bucolic stretches of  shade trees and grasses set as a backdrop to the many food stands and exhibits, carnival rides and animals.
 http://www.alamedacountyfair.com/2012fair/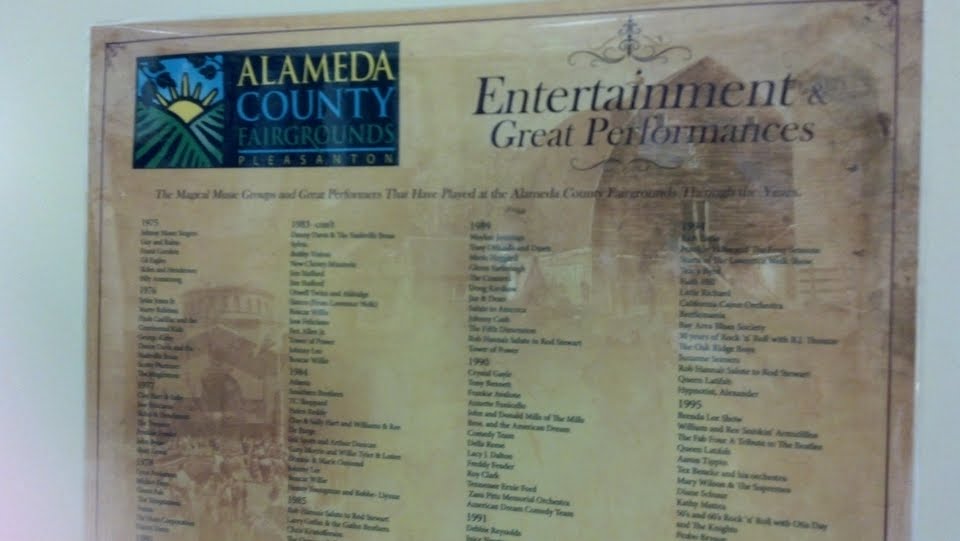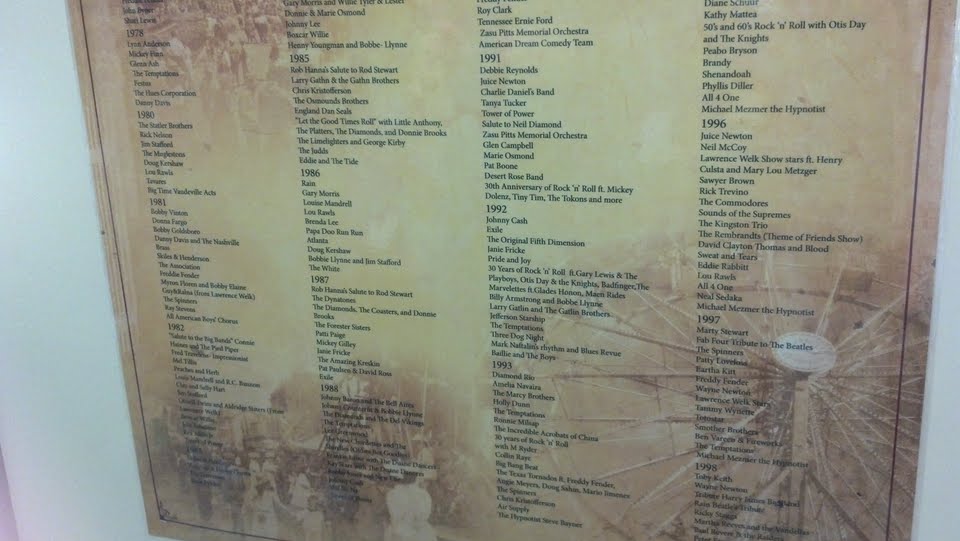 1985 Breakthrough year for me, perhaps the best, with GATLIN BROTHERS,CHRIS
CHRISTOFFERSON , THE LIMELIGHTERS, GEORGE KIRBY and esPEecially 'LET THE GOOD TIMES ROLL' with LITTLE ANTHONY,
THE PLATTERS, THE DIAMONDS hosted by DONNIE BROOKS. The Platters
and Diamonds were not originals except the Platters were lead by
PAUL ROBI, a very funny original member, now deceased. The lead singer
employed by Robi , ELMER HOPPER, though not an original might as well have been Even though
none of the Diamonds appeared to original, they too very very funny,
led by Bob _______. I was actually able to record this concert
and very proud because it was classic. The music quality was superb
and the groups were especially funny , including Little, and I would
soon become a big fan of MC DONNIE ('Mission Bell') BROOKS, who MC'd the show and told some fun one liners. He would come back many years afterthis with a changing cavalcate of stars we always looked forward to.
The concert line-up started slipping a deacade ago when Brooks stopped
appearing with his oldies stars and I heard he passed away a few years
ago not long after a serious car accident.
1986 GARY MORRIS, BRENDA LEE, PAPA DOO RUN RUN – I remember these as standout performances.
1987 DONNIE BROOKS back with the DIAMONDS and COASTERS, as above. AMAZING KRESKIN added
a little variety this year, also PAT PAULSON plus PATTY PAGE.
1988 – The DIAMONDS (but this time, I believer, a totally difernet Diamond group
at a time when unauthorized gbroups were using original group names.Also The New Chordettes.
Shirelles (west coast group featuring original DORIS JACKSON,a star in
her own right who because a regular for about 5 years on the oldies circuit -probably let
by local oldies back up band . Also FRANKLIE LAINES, KAYE STAR, SHA NA NA AND JOHNNY CASH made his first appearance. THIS WAS A GREAT OLDIES YEAR, including for ROY ORBISON, who would stage a major comeback with a top new album and suucess with the
Traveling Wilburys.
A'S OWNERSHIP CONTINUES TO BLOW IT ,  COULD WIN OVER GIANTS FANS IF THEY WANTED TO
I'm just one of many frustrated A's fans who still views the team, butfrom afar. It's because of an overship that runs the team for it's ownstrange interests, rather than to win games. And they've been doing thatmuch too long. Bascially, with baseball's crazy revenue-sharing rules, the A's are making money and just sitting pat until the 'little babies' get their new shiny ball park.
Whenever the A's start playing well, it's almost as if ownership
instructs manager Bob Melvin NOT to do so well. E.g. Like in this latest key weekend series
it's almost as if they are attempting to lose, by putting in a catcher
who has never caught the pitching staff before, by leaving in
an inexperienced first baseman in late innings, by putting in
their weaker, inexperienced ord new pitchers (Blevins, NOrteno and Fuentes) who also haven't played with the team much.
In the first two games the A's were sitting pretty , leading
the Giants, but with inexplicable moves like above, the lead quickly changed – and the A's blew a big opportunity to noto only go to .500for the first time in a long time BUT TO CAPTURE THE RESPECT, ANDINTEREST OF SOME FO THE LARGE  SAN FRANCISCO GIANTS FAN BASE.
Here you have a packed Coliseum (albeit losing 15,000 fans
to the still closed third deck -another crazy A's ploy we could go
into further. If they A's won even two games of the weekend seriesthere would be a Bay momentum shift and they could pick of at leasta few hundred true baseball fans who would come across the bay,if not disowning the Giants but to see another good baseball team. But, the way the A's gave the games blew any possible momentum.Imagine the story, team with one-third the payroll Makes Mincemeat out of Giants. But, whenever the A's approach .500 ball this same theme seems to happen. Ownership couldn't standit if the A's actually contended. Beane has fun moving players like monopoly. With all the movement, sure , he makes good tradesbut he also gives away top prospects time and again , just whenthey are winning over fans. Go figure.
This is a team that would hire Bob Geren -ns over fan favorite
Ken Washington as manager, who would go on to win the three
AL championships the next three years while the A's were were sub-parteam for the next four years under Bob Geren -, the first time underBeane's regime the A's were under .500.  Here's a manager that wouldthat would intentionally walk an opposing team hitter with NO OUTs (minnesot'as Morneau) a a few years back. And Beane just left this
incompetent manager in until the fans finally revolved and forced
him out or Beane's friend would still be there. Beane doesn't watch
games. I can see why.  Now with Bob Melvin , a good manager, the ownership appears
to still  pulling strings such as in this weekend series.
Why can't the A's settle on a lineup of players who at least
know each other and have played together for some time?
But worse than all this is that the  A's are blowing a huge
marketing opporoutnity that costs them nothing.. The weekend draw should show ownership that
fans WILL COME  to the A's 'crappy ballpark.' Even if a lot of themare Giants fans, people will still come. The Haas family had already proven that  with major marketing and now the A's are benefittingwith doing little marketing.  Hit these 'new' fans up with somereal deals for tickets for rest of season, etc. but, better, don't preventthe team from  playing good to great ball as they were until thethe late innings in Giants games.  .
Ownership seems to want the team to do just well enough
so they can't be critisized for purposely hurting the team, even
though. What else can explain why the A's approach but NEVER
stay above .500 these past five years? Beane has all but admitted
the A's will run the team differently, i.e. hold back on spending
money, until the A's have a new ballpark. Sure the A's shocked
the baseball world with the token gesture of getting Cespedes.
Let's see how long he's with the team. Call him Trader Billy.
And the saddest thing is that the A's HAVE  the money.
It's really a shame how Wolf, Fisher and Beane (now a minority
owner himself) have tarnished the proud legacy of the team and
worse, it's the first time the A's haven't been to the playoffs
for five or more years since coming to Oakland. Moneyball Shmunyball!
If Beane still has real credibility in Baseball -albeit the ill-timed,
over-rated movie- I'd be surprised. For Wolf and fisher it's even
worse. I guess I kind of like seeing them being 'held up' for
years by Selig, who comes out the better man this time in my opinion for not giving into their demands at the expense of repeatedlyliquidating the team. Before I praise Selip too much, perhaps heshould be questioned for letting Beane get away with hurting the team year after year. Perhaps thats the or a reason he hasn't moved faster on the ballpark issue.
Kudos to the head of Clorox for his 'open letter' to Fisher
last month asking him to 'get off the pot,' in effect. The A's
response, or lack thereoff was typical. We need more action like
this letter from local business and fans. Just like the fans
forced Bean'es hand to fire Geren the same COULD put pressure
on the  A's ownership to finally get off the pot.
more action like this, from business AND fans.
****
NOTES:
Bob Melvin says he did not  pinch hit for rookie Hicks
in a critical situation because Hicks needed the xperience
and didn't want to lose his confidence. Maybe risking a loss
is better. Why even bother having pinch hitters then. Another
crazy thing that probably comes down from above from Beane,
such as not believing in bunting and that the manager of a team
doesn't really make any difference…Well maybe when Beane
is doingall these crazy things
Take Sunday, in a key closing game against cross bay rivals,
they start a rookie pitcher in his first ever big league game,
Griffin.  I really think Beane is simply feeding his ego
showing he can bring in all these new players to do well.
Sure some do well, most don't. Meanwhile he's LOSING THE
CONFIENCE OF HIS REGULAR STARTING PITCHERS and so forth.
Beane is a big paradox and I feel sorry for Melvin.
Meanwhile the As baseball announcers, are 'yes'  men, going along
with most of the front office nonsense. I guess they want to
keep their jobs if they're hired by the A's, but not sure.
Finally, check the record. Every time the A's have approached
.500 the past 5 seasons it's like something is done to stop it
from happening. And , yes, I'm looking at the front office.
Sounds crazy that they would want to sabatoge their own team
but just look at the record – and stuff like the above that
happens continually.
Sadly, I am  going to have to give up the team. I camn't take
it any longer with the front office meddling. Especially after
seeing  the hated, obnoxious  Giants sweep by the A's when the A's shouldhave won at least two of the games… Of course, this is probablywhat Wolf, Beane and Co want to they have more reason (ie fewer fans)to move the team. On the other hand, if more fans, announcers, etc finally really speak out I'll be right there with them , as I havebeen doing, like this open letter.